Bio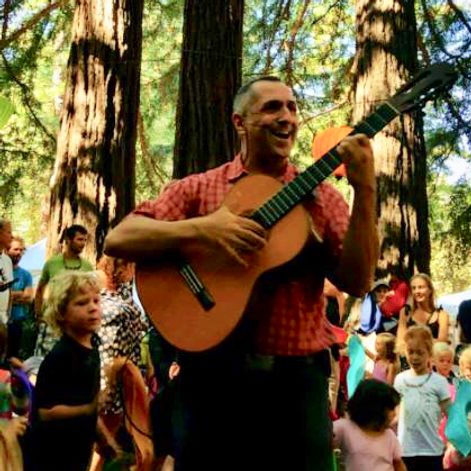 Enzo Garcia sings and plays guitar, banjo, accordion, musical saw, jaw harps, enzotar, ocarina, digital looper, percussion and more. He has been performing and recording professionally for over twenty years, the last seventeen of which he has spent in the San Francisco Bay Area. Enzo has been performing his family music show, "Breakfast with Enzo", weekly in San Francisco for the past 19 years, encouraging a wide community of family music makers. All folks - big and small, young and old - are welcome!
In 2018, was honored as a Best of SF recipient by San Francisco Mgazine. In addition, Enzo's LMNO Pink recording was listed as a top twenty best children's music recording of all time among artists such as Woody Guthrie, Pete Seeger and Ella Jenkins.
https://www.liveabout.com/musical-artists-for-young-children-2103196
Former San Francisco mayor, now California governor Gavin Newsom proclaimed January 26, 2008 official "Breakfast with Enzo Day" in San Francisco in recognition of Enzo's contribution to the families of the city. Enzo has recorded with Grammy nominated musicians Darol Anger, Mike Marshall, Grand Ole Opry fiddler Matt Combs as well as Anti-Records recording artist Jolie Holland. Enzo has recorded thirteen full length CDs, ten of which are for families.